The exterior of a home serves as its initial introduction, silently conveying a message about its inhabitants. Beyond mere aesthetics, the exterior, especially the siding, is crucial for defending the home against nature's elements. Siding functions as a home's protective barrier, guarding against rain, snow, pests, and severe winds. In Wichita, KS, given the seasonal weather fluctuations, one cannot overstate the importance of siding repair Wichita KS contractors.
From the cost-effective and versatile vinyl siding to the timeless beauty of brick, homeowners today have a plethora of choices when it comes to selecting the perfect siding for their homes. Each type comes with its unique set of advantages and challenges.
For instance, while vinyl siding offers affordability and a wide color palette, it may not be the most durable option in the face of extreme weather conditions. On the other hand, materials like LP SmartSide offer exceptional durability but might be on the pricier side.
However, even the best siding materials can show signs of wear and tear over time. Cracks, rot, mold growth, and even bubbling are indicators that your siding might be crying out for some attention. Ignoring these signs can lead to more severe problems, from increased energy bills due to poor insulation to structural damage from water seepage.
In this guide, we'll explore Koehn's approach to siding repair Wichita KS, weigh the pros and cons of DIY versus hiring professional siding contractors, and offer insights on how to select the ideal siding repair Wichita KS contractor. 
Our goal is to empower homeowners with the information necessary to make well-informed decisions regarding their properties. Whether you're a first-time homeowner or looking to renovate a multi-generational property, continue reading to uncover all you need to understand about siding repair.
How Koehn Performs Siding Repair in Your Wichita Home
Ensuring that your siding is in top condition is crucial. At Koehn Painting, we understand the importance of siding repair and are dedicated to providing top-notch services to Wichita residents. Here's how we approach siding repair for your home: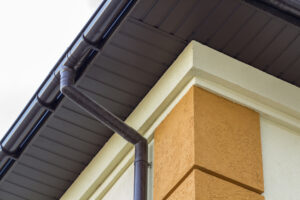 Comprehensive assessment of damage: Before diving into siding repair Wichita KS, our team will conduct a thorough inspection of your siding. We'll look for tell-tale signs of damage such as buckling, warping, gaps between panels, cracks, impact damage, and even subtle indicators like strange smells or water damage indications from exterior walls.
Expert consultation: Once we've assessed the damage, we'll consult with you to discuss the best course of action. Whether it's a minor patch-up or a more extensive replacement, we'll ensure you're informed every step of the way.
Choosing the right materials: At Koehn Painting, we emphasize the importance of using the right materials for the job. While wood siding offers a classic aesthetic, it requires meticulous upkeep and can be prone to moisture issues. We'll guide you through the pros and cons of each material, ensuring you make an informed decision tailored to your home's needs.
Precision repairs: For minor damages, our team will clean the affected area, apply waterproof caulk to small divots, and ensure a seamless finish by sanding and painting the repaired section. If the damage is more extensive, we'll carefully cut out the affected siding, prepare a patch, and expertly install it, ensuring it blends seamlessly with the rest of your home's exterior.
Full panel replacement: In cases where the damage is too extensive for a patch-up, Koehn Painting is equipped to handle full panel replacements. We'll separate the damaged panel, remove any nails or screws, and install a new panel that matches your home's existing siding. Our team ensures that the new panel is securely in place, protecting your home from potential future damage.
Final inspection and quality assurance: Our job isn't done until we've conducted a final inspection to ensure the repairs meet our high standards. We take pride in our work, and our primary goal is to ensure your home's siding is not only aesthetically pleasing but also serves its protective function effectively.
Post-repair care tips: Once the repair is complete, we'll provide you with tips and guidance on maintaining your siding. From cleaning recommendations to signs of potential damage to watch out for, we'll equip you with the knowledge to keep your siding in top condition for years to come.
For siding repair Wichita KS chooses Koehn Painting. We believe in a holistic approach to siding repair. Our team of experts is dedicated to ensuring that your Wichita home remains protected, energy-efficient, and visually appealing. Trust in our expertise, and rest easy knowing your home's exterior is in capable hands.
Contact us here if you would like to find the best painting contractor for your residential or commercial needs.
DIY vs. Professional Siding Contractors Near Me
One of the most debated topics in relation to siding repair Wichita KS  is whether to take the DIY route or hire professionals. So, should you roll up your sleeves and do it yourself or go online and search for 'siding contractors near me' for the expertise of professional siding contractors? Let's weigh the pros and cons.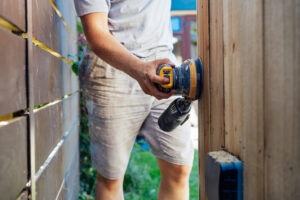 Pros of DIY siding replacement:
Cost savings: One of the primary reasons homeowners consider DIY is the potential for upfront cost savings. By eliminating labor costs, you might save a considerable amount.
Personal satisfaction: There's a sense of pride and accomplishment in completing a home project on your own.
Flexibility: You can work at your own pace and make decisions on the go without consulting anyone else.
Cons of DIY siding replacement:
Time and effort: DIY projects, especially something as significant as siding replacement, require a substantial amount of time and effort.
Potential mistakes: Without the proper experience, you might make errors that can lead to additional costs in the future.
Lack of tools and knowledge: Siding replacement requires specific tools and techniques. Not having the right equipment or know-how can compromise the quality of the job.
No warranty: DIY means no workmanship warranty. Any issues that arise post-installation will be your responsibility to fix.
Pros of professional siding contractors:
Expertise: Local siding repair Wichita KS contractors bring years of experience to the table. They know the ins and outs of siding replacement and can handle unexpected challenges.
Quality assurance: With professionals, you're guaranteed a certain level of quality. They ensure proper installation and adherence to building codes.
Efficiency: Contractors have a team, the right tools, and a set schedule, ensuring the project is completed faster.
Warranty: Most professional siding contractors offer warranties on their work, giving you peace of mind.
Value addition: Professionals can provide insights into the latest trends, materials, and techniques that can enhance the value and efficiency of your home.
Cons of professional siding contractors:
Higher upfront costs: Hiring professionals can be more expensive initially due to labor costs.
Scheduling: You might have to adjust your schedule based on the contractor's availability.
While the allure of DIY projects, especially in terms of cost savings, can be tempting, a siding repair is a significant undertaking. The expertise, efficiency, and peace of mind offered by professional siding services often outweigh the potential challenges and pitfalls of a DIY approach. 
Before making a decision, evaluate your skill level, budget, and the value you place on quality and longevity. Remember, your home's exterior is not just about aesthetics; it's a protective barrier that requires careful attention and expertise.
Siding Repair Wichita KS: Tips on How To Choose the Best Contractor
Given the importance of a siding repair, ensuring that you're entrusting your home to the right hands is crucial. Here are some consolidated tips to guide you in choosing the best contractor for your siding project: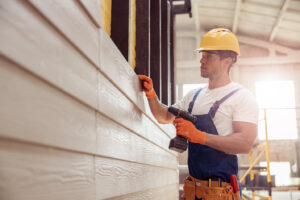 Understand Your Needs: Before diving into the search, have a clear understanding of your siding needs. Whether you're looking for a specific material like fiber cement siding or a particular style, knowing your requirements will help you find a contractor who aligns with your vision.
Local Expertise Matters: Opt for a local expert with a proven track record in Wichita. Local contractors are familiar with the region's climate and specific challenges, ensuring that your siding is equipped to withstand local weather conditions.
Vet Potential Contractors: Don't just settle for the first contractor you come across. Ask for referrals, read customer reviews and testimonials, and request quotes from multiple contractors. This will give you a broader perspective and help you make an informed decision.
Licensing and Insurance: Ensure that your chosen contractor is licensed and insured. This not only speaks to their professionalism but also protects you from potential liabilities during the project.
Open Communication: A good contractor will be open to discussing your vision, answering your questions, and providing clarity on the project's timeline, costs, and other essential details.
Avoid Scams: Be wary of contractors who pressure you to sign contracts immediately, ask for the entire project cost upfront, or have significantly lower quotes than others. Remember, if it sounds too good to be true, it probably is.
Quality Over Cost: While budget considerations are essential, don't compromise on quality. The best contractor might not always be the cheapest, but they will provide value for money, ensuring that your siding stands the test of time.
Finalize with a Written Contract: Once you've made your choice, ensure that all project details, responsibilities, payment schedules, and other essential aspects are detailed in a written contract. This protects both you and the contractor and sets clear expectations for the project.
For siding repair Wichita KS, the right contractor can make all the difference. By following these tips and doing your due diligence, you can ensure that your home's exterior is in the best hands, guaranteeing both aesthetic appeal and long-lasting protection.
If you want to learn more about Koehn and our painting services, feel free to get a quote from us.