Let's assume you are looking to give your home a new feel, or maybe you are considering selling your home and are looking to improve its overall appearance. In that case, other than extensive renovations, interior painting would be your next best option, and that begins with an online search for "interior painting near me."
A fresh coat of paint can do wonders for your home's interior. But the aesthetic appeal of your space is not just about the color on the walls – it's about the finesse of the application, the quality of the paint, and the expertise of the individuals wielding the brushes. That's where Koehn Painting comes in.
In this blog, we will elaborate on why Koehn Painting is one of Wichita, Kansas' best interior painting services. By exploring everything from our distinctive processes and outstanding customer service to our locally conscious operations, this post aims to highlight why we at Koehn Painting are not just a service provider but a local partner in transforming your living space.
Stay with us as we unravel the reasons behind the acclaim, and reveal why choosing Koehn Painting could be the best decision you make for your home's aesthetic upgrade.
Why You Should Hire Professional Painting Services When Painting Your Home's Interior
Before delving into what makes Koehn Painting a top choice, it's essential to appreciate the value that professional painting services bring to the table.
For many, the thought of painting one's own home might seem tempting. After all, isn't it just about picking up a brush and spreading color? The reality, however, is far from this simplistic view.
Understanding materials
Choosing the right paint is crucial in any painting project. Paint comes in various types, each with different characteristics suitable for different surfaces and environments. For example, if you are searching for interior painting near me, it's worth knowing that latex paint is great for general use, while oil-based paint may be the best for high-traffic areas due to its durability. A professional painter knows the nitty-gritty of these materials and will make the optimal choice for your home.
Knowledge of Surfaces
Every wall is unique and might require a different approach. Professionals understand that different surfaces absorb paint differently and that surface defects need to be fixed before painting. According to research by the Department of Transportation, 75% to 80% of all paint failures can be attributed to inadequate surface preparation. Professionals ensure your walls are properly prepped to deliver a flawless finish.
Mastery of Techniques
There is a wide range of techniques used in painting, from basic brush and roll to more complex ones like sponging, ragging, or stenciling. These techniques can be used to create different textures and effects that enhance the beauty of your home. A professional painter not only has the knowledge of these techniques but also the skills to apply them accurately and efficiently.
Aesthetics
Choosing a paint color is not as easy as it seems. It requires a deep understanding of color theory, the impact of lighting on color perception, and how different colors can influence the mood of a space. A professional painter can provide expert advice on color selection and combinations that will enhance the aesthetics of your home while also reflecting your personality.
In addition to the above, there are other compelling reasons to perform an online search for " professional interior painting near me," such as: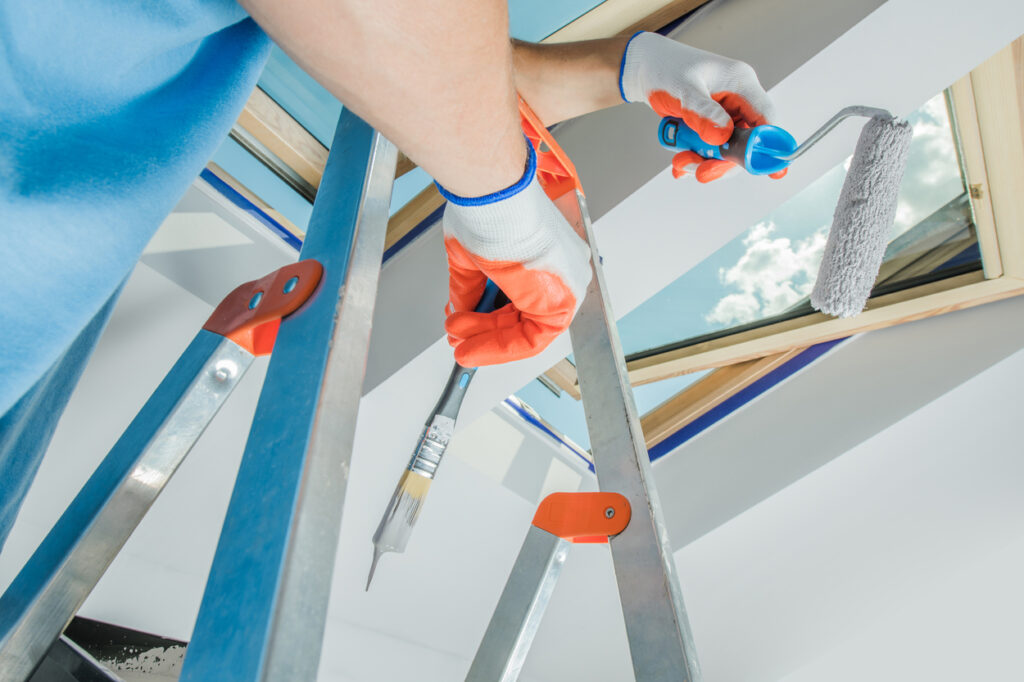 Less stress: Painting requires meticulous planning and execution, which can often be stressful. By hiring professional painters, you hand over the reins of managing the entire project to experts. This allows you to carry on with your daily activities without being troubled by the intricate process of painting.
Quality finish: A major distinction between DIY and professional painting is the finish quality. Professionals are renowned for their high-quality finishes. They understand what it takes to achieve a smooth, gleaming finish that ensures your walls mirror the vision you had in mind.
Time management: Painting is not just about applying color; it involves numerous tasks that can be time-consuming. Professional painters, with their efficiency and discipline, can complete any painting job within the stipulated time. They dedicate full days to the task if necessary, ensuring deadlines are met, and your routine is minimally disturbed.
Return on Investment: Although hiring professionals might seem expensive initially, it can be seen as an investment. The superior quality results delivered by professionals provide a satisfactory return, improving the aesthetics and value of your home.
Well-equipped: To ensure a flawless paint job, it's essential to have the right tools and equipment. Professional painters come fully equipped with everything required for the task. This eliminates the need for you to source or buy these resources, saving you time, effort, and money.
Clean-up: The aftermath of a painting job can often be chaotic and exhausting to clean. Professional painters understand this and go to great lengths to minimize this inconvenience. They cover unmovable objects before starting the job and are responsible for cleaning up at the end of each day, ensuring your home stays as tidy as possible.
Understanding these advantages sets the stage for appreciating the exceptional services provided by Koehn Painting. We not only embody these benefits but also take professional interior painting to the next level.
Contact us here if you would like to find the best painting contractor for your residential or commercial needs.
Koehn Painting: The Best Pick for Interior Painting Contractors Near Me
If you are in the Wichita, KS area and are looking for "interior painting contractors near me," Koehn Painting just might be your best bet, as we, as an interior painting contractor, have a trusted reputation built over 30 years. Let's delve into what makes us the best pick for an interior painting contractor for your home.
Local Expertise
Koehn Painting has been a cornerstone in the Wichita community for over three decades. This longevity speaks volumes about our credibility and the level of satisfaction we have provided to Wichta's residents over the years. 
Our expertise is in both interior and exterior residential painting, so we're well-versed with the local weather conditions, trends, and the type of paint that brings out the best in homes like yours.
Free In-Home Estimate
We understand that painting your home is a deeply personal project. Therefore, we offer free in-home estimates for our professional painting services, thereby setting a clear, mutually agreed-upon vision before commencing the project. This comprehensive consultation process ensures that we not only meet but exceed your expectations.
Skilled and Experienced Painters
Our house painting team comprises professionally insured painters who bring a wealth of knowledge and years of experience to the table. They ensure that no detail is overlooked and strive for perfection on every job. Their extensive experience also means that we can offer you a satisfaction guarantee on all projects, reaffirming our commitment to providing top-notch services.
Detailed Surface Preparation
Before a single brushstroke graces your walls, we take care of all the detailed surface preparation that's needed. We handle professional repair and caulking needs and take precautions to protect your furniture and plants during the painting process. Rest assured, we are committed to leaving your home as neat and clean as we found it, if not more so.
Reputation
We are proud to be known as the "neatest and cleanest" painters in the area, a reputation we've earned through our commitment to quality work. We are meticulous in our approach and respect our clients' homes as if they were our own. This strong reputation reinforces our mission to deliver services that reflect the highest professional standards.
Customer Focus
Your needs and expectations are paramount to us at Koehn Painting. We listen to your unique requirements and provide a fixed-price proposal for our services, ensuring transparency and avoiding unexpected cost overruns. Our ultimate goal is to not just meet but delight you with our painting services.
Safety
The safety of everyone involved in our projects is of utmost importance to us. Our residential painters receive regular safety training and use proper personal protective equipment, tools, and equipment. We diligently work to mitigate the risks associated with painting, providing you with peace of mind throughout the project.
Interior Painting Near Me: Why You Should Choose Local Contractors
Choosing the right contractor for your home renovation projects, especially for a delicate task like painting, can be a game-changer in the overall outcome. It's important to consider several factors when making this choice, and one key aspect that often gets overlooked is the value of selecting local contractors.
The great thing about performing an online search for "interior painting near me" is that you will be presented with a list of local contractors who:
Understand the local climate
Have a local reputation that is easy to verify, and
Are familiar with and comply with local regulations
So, next time you're considering a home renovation project, remember the numerous benefits of going local by choosing KoehnIf you want to learn more about Koehn and our painting services, feel free to get a quote from us.