In recent years,  custom home painting services and the global house painting market have undergone a remarkable shift, marked by both growth and the adoption of cutting-edge technologies. As things currently stand, the house painting market's estimated value stands at an impressive US$ 17.8 billion, with forecasts predicting a rise to US$ 29.6 billion, expanding at a CAGR of 5.2%.
This growth is not just a mere number; it's a testament to the changing dynamics of the industry and the increasing emphasis homeowners place on aesthetics and protection. The surge in residential construction worldwide, coupled with a growing consumer focus on home improvement, has been a primary driver for this growth.
Professional house painters are no longer just service providers; they are consultants who guide homeowners in choosing the right colors, ensuring the longevity of the paint, and enhancing the overall aesthetic appeal of homes. Furthermore, the integration of cutting-edge tools, such as the Internet of Things (IoT) and 3D visual solutions, is revolutionizing the way homeowners visualize their homes before a single brush stroke is made.
While these trends are global, local cities like Wichita, KS, are not far behind in adopting and benefiting from these advancements. The rise of custom home painting services in Wichita mirrors the global trend, emphasizing quality, customization, and the use of advanced technology.
Let us now look into some popular trends being used by painters, discover how to find great painters for your residential painting, and finally look at the future of custom painting in Wichita, KS.
A Look at Some of the Trends Being Used by Painters Near Me
The landscape of residential painting is continuously evolving. These shifts have ushered in a variety of painting styles tailored to diverse tastes and desires. If you're looking to adopt these trends for your Wichita, Kansas home, a quick online search for "painters near me" can connect you with skilled professionals who can deliver the custom home painting services you need. Let's dive into some of these standout trends: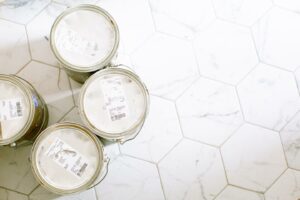 Breathing easy with paint: A new wave of paints is here that not only beautifies spaces but also purifies the air. These paints actively filter out harmful elements like VOCs and CO2, ensuring that the air inside homes remains fresh and healthy.
The green paint revolution: With growing environmental consciousness, the demand for VOC-free paints is on the rise. These eco-friendly alternatives promise a healthier living environment, free from the harmful effects of traditional paints.
Guarding against germs: The health wave has also brought paints with antibacterial and antimicrobial properties. Ideal for spaces like kitchens and restrooms, these paints actively combat harmful microorganisms, ensuring a hygienic environment.
Digital paint trials: The fusion of tech and paint is evident in the rise of virtual visualization tools. These digital platforms allow homeowners to 'try on' paint shades in virtual spaces, ensuring they make the perfect choice for their homes.
Beyond basic paint: The industry is buzzing with advanced coatings that promise more than just color. For instance, nanocoatings are making a splash with their ability to resist external wear and tear, ensuring that painted surfaces remain pristine for longer.
Nature-inspired paints: The self-cleaning paints, inspired by natural phenomena, are designed to remain untainted by external elements. Their unique composition ensures they repel dirt and water, maintaining their fresh look over time.
The magic of self-repair: Imagine paint wraps that mend themselves. These innovative solutions camouflage damages or blemishes when exposed to heat, ensuring walls always look their best.
Quick set paints: Recognizing the need for speed in today's world, the industry has introduced paints that set faster. These quick-drying variants reduce the wait time, ensuring a smudge-free finish.
Double-duty paints: The one-coat paints are a boon for those seeking efficiency. By merging the properties of paint and primer, they offer a comprehensive solution in a single coat, saving time and effort.
Use of colors: Delving into the heart of modern painting trends, professionals are embracing a vibrant palette of colors and techniques. From calming blues that evoke serenity to the romantic hues of lilac, there's a color for every mood and setting. The resurgence of rich reds and grounding natural hues like browns speaks to the timeless appeal of these classics. 
In essence, the world of residential painting is more vibrant and innovative than ever. With a blend of technology, environmental consciousness, and practicality driving these trends, homeowners can look forward to a future where paints beautify and add significant value to their living spaces.
Contact us here if you would like to find the best painting contractor for your residential or commercial needs.
How To Find the Best Exterior Painters Near Me
Finding the ideal local exterior painter goes beyond a simple Google search for "exterior painters near me" – it's truly an art. The challenge can feel overwhelming in a bustling city like Wichita, Kansas, with its myriad of custom home painting services. Yet, the exterior of your home sets the initial tone, and it should be stunning.
So, amidst the vast ocean of exterior painters, how do you pinpoint the one that resonates with your aspirations and requirements? Here's a guide to help you in your quest: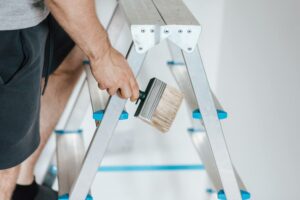 Understand the importance of professionals: First and foremost, recognize the importance of professional execution. A fresh coat of paint can transform your home, but only if applied with precision and expertise. The right painter will not only enhance the beauty of your home but also ensure longevity and durability.
Local expertise matters: Wichita's unique blend of Midwest charm and urban landscape requires painters who understand the local nuances. Local companies like Koehn Painting are more familiar with the area's climate and environmental conditions, which can significantly impact paint application and longevity.
Check online platforms: In today's digital age, online reviews and ratings are invaluable. Platforms like Google, Yelp, and Angi offer insights into a painter's reputation. A company with high ratings and positive reviews is likely a testament to their quality of work and professionalism.
Get multiple bids: Don't settle for the first quote you receive. You can compare painting costs, services offered, and the materials used by getting multiple bids. This will give you a clearer picture of what's available and help you make an informed decision.
Conduct interviews: Once you've shortlisted a few painters, take the time to meet with them. This will allow you to gauge their professionalism, understand their process, and get a feel for how they operate.
Check references and reviews: A top-notch painter will have a list of satisfied customers. Ask for references and take the time to check them. Previous clients can provide insights into the painter's work ethic, quality of work, and overall experience.
Prioritize safety and professionalism: Ensure that the painters adhere to safety practices. They should be insured and licensed and use quality materials. Additionally, their approach to their work, from prepping the surfaces to cleaning up after the job, speaks volumes about their professionalism.
Warranties and guarantees: The best painters stand by their work. Look for those who offer warranties or guarantees. This not only speaks to their confidence in their work but also provides you with peace of mind.
Communication is key: The best painting experiences are built on clear communication. Ensure that your chosen painter keeps you informed at every step, is responsive to your queries, and values your input.
Using Google search to find the best "painters near me" involves research, diligence, and intuition. By following the steps above, you will be on track to discovering a painter who will elevate your home's exterior to a masterpiece.
The Future of Custom Home Painting Services in Wichita, Kansas
With the world becoming increasingly conscious of the environment, Wichita, Kansas, is no exception. The city's residential painting landscape is transforming significantly, with eco-friendliness at its core. As a result, one can expect the future of custom home painting services to revolve around:
Eco-friendly painting: The move towards eco-friendly residential interior painting is not just a trend but a conscious choice. As we prioritize the health of our planet, our homes are reflecting this commitment. The paints we choose, the techniques we employ, and the contractors we partner with should echo this eco-friendly ethos.
The abandonment of Volatile Organic Compounds (VOCs): Traditional paints, while diverse in color and finish, often contain harmful chemicals known as Volatile Organic Compounds (VOCs). These compounds, while giving paint its characteristic fresh smell, can have detrimental effects on health and the environment. The industry's shift towards natural paints, devoid of harmful VOCs and made from substances like citrus, balsam, and minerals, is a significant step towards sustainability.
The rise of natural paints: Natural paints, derived from renewable sources, are fast gaining traction. Whether it's milk paint, which offers a rustic charm, or latex paint that provides durability without the environmental cost, the options are expanding. These paints not only ensure a beautiful finish but also promise a healthier living environment.
Increased emphasis on certifications: To ensure the eco-friendliness of paints, many now come with certification seals. Labels like GREENGUARD guarantee low VOC content, while the Green Seal stands as a testament to strict environmental standards.
The future of custom home painting services in Wichita, Kansas, is bright and green, with homeowners' choices painting a brighter, more sustainable future, one brushstroke at a time.
If you want to learn more about Koehn and our painting services, feel free to get a quote from us.