Your home isn't just a place. It's a feeling, a sense of comfort and safety that we seek after a long day. Every corner, every room, and every wall of our house often reflects a part of us. One of the key elements that contribute significantly to this aspect is the paint and the quality of the chosen interior painting contractors near me.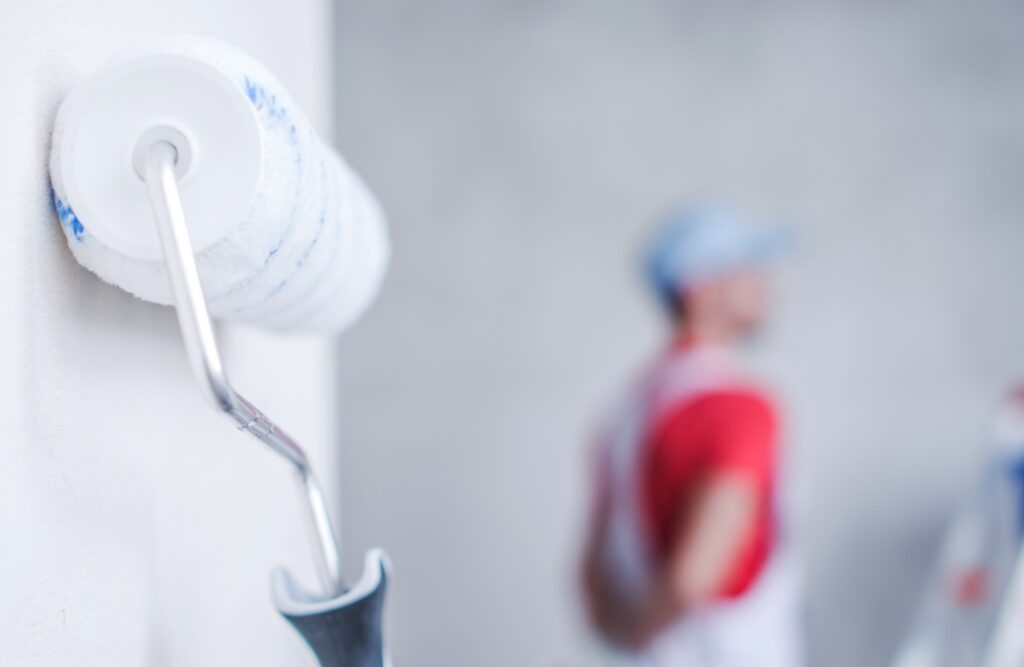 Painting the interior of your house is not just about adding a splash of color or coating the walls. It's about creating a mood, an ambiance that complements your lifestyle and personality. It requires an understanding of color psychology, careful preparation, skilled application, and an eye for detail. It's about transforming a mere physical structure into a space that truly feels like home.
This is why you should always search for "professional interior painting contractors near me" if you are considering a paint job for your home. Their expertise, experience, and knowledge can make a significant difference in bringing your vision to life. However, not all contractors are created equal, and the responsibility of finding the right one rests squarely on your shoulders.
The process of hiring the best interior painting contractor is not just about scanning through a list of names or picking the one nearest to you. It requires a thorough evaluation, a keen understanding of your requirements, and, most importantly, asking the right questions. That's what this blog will help you do: know the right questions to ask.
However, before we delve into the questions you should ask potential contractors, it's important to grasp the basics of interior painting. Knowing what the process entails will help you better understand the responses you get from contractors, ensuring that you can make an informed decision.
Also, this knowledge will prove valuable if you decide to go the DIY painting route.
Understanding the basics of interior painting
Embarking on an interior painting project can be a creative and satisfying endeavor, but it can also seem daunting if you're unsure where to start. Here are some steps that cover the basics:
Plan your approach: Remember, your canvas extends beyond just four walls. You can play with different colors for an accent wall, highlight moldings in contrasting shades, or experiment with finishes. Let your creativity soar; the goal is to create a space that reflects your personality and aesthetic preference.
Choose the right color: Do you envision a warm, cozy space or a cool, calming haven? Do you prefer neutrals, or are you drawn to saturated hues? Once you've narrowed down your preferences, pick a few options and get paint samples to see how they look in your space. Remember, lighting can dramatically affect a color's appearance, so be sure to view the samples in different lighting conditions.
Gather your tools: Your toolkit should include essentials such as paint, a paint roller, drop cloths, paintbrushes, a paint tray, sandpaper, painter's tape, rags, and a putty knife. The condition of your walls and the type of paint you choose may necessitate additional tools.
Calculate the amount of paint you'll need: A common question among DIY painters is, "How much paint will I need?" Typically, one gallon covers around 400 square feet, but this can vary based on the color and texture of your surfaces.
Prep your room: Move all furniture to the center and cover them with a drop cloth or lightweight plastic sheeting. Apply painter's tape along the edges of your room's corners, base, crown moldings, doors, and window casings. This step is vital for achieving a neat, professional look.
Mix your paint effectively: To ensure uniformity of color, mix your paint using a wooden paint stick, and keep stirring it often during the project. If you're using more than one gallon, blend the cans in a large bucket to avoid any slight variation in color.
Master the art of application: When applying the paint, work from the top down, starting with the ceiling. If you're covering dark walls with a lighter hue, plan for at least three coats: a primer, followed by two coats of the new color. This will ensure a thorough cover-up of the previous shade.
Ensure proper ventilation: Never underestimate the importance of good ventilation during your painting project. Keeping your space well-ventilated will safeguard your health and also help the paint to dry faster.
Clear the space: Once your painting is done, carefully remove all painter's tape and gather your drop cloths. Clean your brushes and other tools appropriately based on the type of paint you've used.
Take your time: Finally, don't rush the process. Allow ample time for each step, from preparation to cleanup. A well-planned, unrushed painting project is more likely to yield the stunning results you're aiming for.
Whether refreshing an old room or embarking on a complete color makeover, each step in your painting project contributes to creating a space that resonates with your unique taste and personality.
Now that you understand the steps taken when painting the interior of your home, let's now dive into the types of questions you should ask after searching for "interior painting contractors near me."
13 Key Questions To Ask When Looking for Interior Residential Painting Services
When it comes to residential painting services, asking the right questions is not just a matter of due diligence—it's a critical step that can significantly impact the outcome of your painting project.
If you have searched for "interior painting contractors near me" and found a potential contractor you like, asking detailed questions will help clarify factors like timeline, costs, and the processes involved, eliminating any potential surprises or misunderstandings that could arise later.
Also, how contractors respond to your questions can give you insight into their expertise, professionalism, and communication skills. Detailed, thoughtful responses are a good sign that they're knowledgeable and experienced.
As you embark on your quest to find the best "interior painting contractors near me," here are the key questions to ask:
Experience and background
Understanding the contractor's experience and background can give you insight into their capability and reliability. Here are the questions:
How long have you been in business? The longer a contractor has been in business, the more likely they are to have gained substantial experience and expertise.
Can you provide references? References from previous customers can provide firsthand insights into the quality of the contractor's work and professionalism.
What training and qualifications do you have? This helps you assess the technical competence of the contractor.
Project details
You must understand how the contractor plans to manage the painting project. Therefore, ask these questions:
What's the expected timeline for the project? This gives you an idea of how long the project will take and helps you plan accordingly.
How many people will be on the crew? Knowing the crew size can give you an idea of how the work will be divided and managed.
Who will be my point of contact during the project? It's essential to have a designated person who will keep you updated and answer your queries during the project.
Cost and payment details
Cost is often a determining factor when hiring a contractor. Hence, ask the following financial questions:
What's the cost estimate? A detailed cost estimate can help you understand where your money is going and prevent surprises later.
What's your payment schedule? This helps you manage your finances efficiently and understand the contractor's payment expectations.
Are there any potential additional costs? Understanding the potential for extra costs can help you plan your budget more accurately and prevent unexpected expenses.
Licensing, insurance, and safety
When inviting a contractor into your home, it's crucial to ensure they operate under legal and safety regulations. Ask these questions:
Are you licensed and insured? This protects you from potential liabilities and ensures the contractor is legally compliant.
How do you prioritize safety during a job? This gives you an insight into the contractor's commitment to safe working practices.
Prep and clean-up
Understanding the contractor's approach to preparation and clean-up can give you an idea of their professionalism and dedication. Here are the questions to ask:
How will you protect furniture and other items during painting? This will let you know the steps the contractor will take to protect your belongings during the painting process.
What's your clean-up process? A professional contractor should always leave your home clean and tidy after the job is done.
Armed with these questions, you'll be in a strong position to evaluate and choose the best interior painting contractor for your project.
Contact us here if you would like to find the best interior painting contractor for your residential needs.
Red Flags To Look Out for When Seeking Interior Painting Services
While knowing what to ask when looking for interior painting services is crucial, it's equally important to be aware of potential red flags during your interactions with contractors you found after Googling "interior painting contractors near me."
These warning signs might indicate a lack of professionalism, unreliability, or potential for unsatisfactory results with the interior house painting services. Here are some red flags to look out for:
Temptingly low rates: If a painting contractor offers a remarkably low rate, it could be a sign that they may compromise on the quality of materials used or might lack the proper insurance coverage and residential painting services experience to do the job efficiently and effectively. Remember, you don't want to end up paying twice – first for a poor job and then for the right contractor to correct the errors.
Insufficient references and reviews: Professional painting services contractors should be able to provide references from previous clients to attest to the quality of their work. However, don't just skim the surface of these references. Probe deeper, ask questions, and, if possible, view some of the completed projects. Alongside personal references, online reviews are an invaluable resource that provides candid assessments from previous clients.
Vague contracts: Here, the language should be clear, concise, and easy to understand. The contract should clearly outline all the crucial aspects of the project – who will perform the job, what work will be done, when and where the job will take place, and how the project will be executed. It should also define how conflicts or missed deadlines are to be resolved and the process for both parties to enter and terminate the agreement.
Suspicious payment terms: The detailed estimate provided by the contractor should break down the cost of labor and materials. A contractor that demands full payment before the commencement of the project is a red flag. It could potentially leave you exposed to losses if the contractor fails to complete the job or meet your standards. For larger projects, it's standard practice to provide an initial deposit.
By being aware of these red flags, you'll be better equipped to make an informed choice and ensure a high-quality painting job that meets your expectations.
Interior Painting Contractors Near Me: The Importance of Getting Multiple Quotes
As you embark on your search for the best "interior painting contractors near me," one crucial step in this process is obtaining multiple quotes from different contractors. By getting multiple quotes, you'll better understand the going rates for your specific project in your area. This not only ensures that you're getting a fair price but can also protect you from overcharging.
Also, remember that the cheapest quote is not necessarily the best. Multiple quotes allow you to evaluate the value offered by each contractor, considering factors like the quality of materials, the proposed timeline, and the level of service.
Getting multiple quotes from various painting contractors allows you to compare different contractors on an even playing field. This can give you confidence that you're making an informed decision and selecting the best contractor for your project.
In conclusion, asking the right questions and understanding the answers is critical to assessing a contractor's suitability for your project. Also, don't forget to be aware of potential red flags that could indicate a less-than-reputable contractor.
If you want to learn more about Koehn and our painting services, feel free to get a quote from us.