Whether you're a homeowner looking to refresh your home's curb appeal, a real estate agent aiming to increase a property's market value, or a community member interested in preserving the unique aesthetic charm of Wichita, the importance of exterior painting and hiring a professional exterior painting contractor for your home cannot be overstated.
Painting a home's exterior plays a crucial role in not only enhancing the visual appeal of a property but also providing a protective layer against the elements. Hence, when considering such a significant investment, the logical step is to hire a professional – someone with the expertise, experience, and local understanding to do the job right. This is where Koehn, a trusted exterior painting contractor, steps in.
Located a few miles from Wichita, we at Koehn have transformed homes across the city with our exceptional painting services. Renowned for our commitment to quality and dedication to the community, we have become the contractor of choice for numerous Wichita, Kansas, residents. But what exactly makes Koehn stand out?
In this blog, we'll delve into the reasons why Wichita residents overwhelmingly choose Koehn as their preferred exterior painting contractor. We'll explore the unique aspects of Koehn's services as an exterior painting contractor, the distinct needs and preferences of the Wichita community, and the ways in which Koehn—and its commercial painting sub-division, K5—meet and exceed expectations. 
An Overview of Wichita Painters and the Wichita Market as a Whole
Anchoring the south-central region of Kansas, Wichita stands tall and proud as the largest city and county seat of Sedgwick County. Nestled on the banks of the Arkansas River, Wichita is situated roughly 140 miles southwest of Topeka, the state's capital. At an elevation of approximately 1,300 feet, the city offers a panoramic vista of the expansive Kansas plains.
Founded in 1864, the city's initial growth spurt came courtesy of the Texas cattle trade that bustled along the historic Chisholm Trail. It further blossomed with the spread of agricultural settlement that followed the route of the Atchison, Topeka, and Santa Fe Railway. The arrival of the railroad in Wichita in 1872 marked a pivotal moment in the city's development, transforming it into a major cattle-shipping center.
Today, as the largest city in the state of Kansas, Wichita acts as the vibrant hub for a metropolitan area that extends over three counties. The city pulses with life, its energy rippling outwards to nearby communities such as Park City, Andover, Derby, and Haysville.
Geographically, the climate presents unique challenges for Wichita painters and homeowners. With a humid subtropical climate, the city experiences all four seasons, with hot, humid summers and cold, dry winters. These weather conditions necessitate special considerations when it comes to home maintenance, particularly exterior painting.
An analysis of the Wichita housing market
As things currently stand, Wichita's housing market continues to experience a boom, driven by factors such as affordable housing costs, a thriving job market, and quality of life improvements. This has brought about an increased focus on home maintenance and renovation, with exterior painting being a key aspect of these efforts.
Other interesting Wichita housing stats that make Wichita an attractive location for an exterior painting contractor include: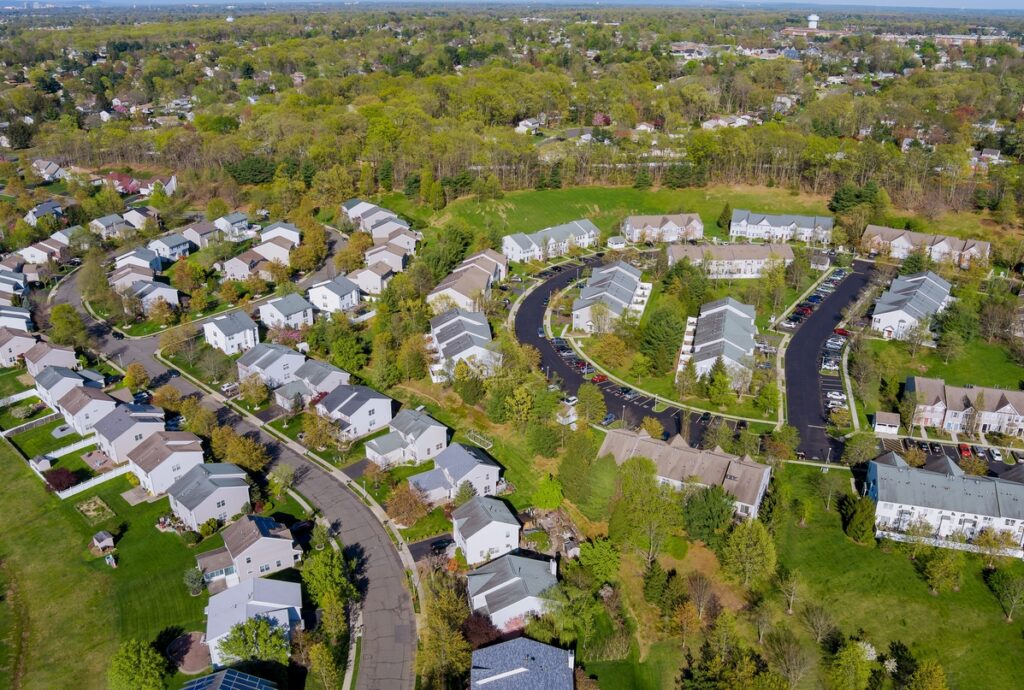 Current median home price: The median home price in Wichita stands at $126,100. This relatively affordable rate, when compared to the national average, makes it an enticing location for both first-time homebuyers, seasoned investors and an exterior painting contractor.
1-Year appreciation rate: Over the past year, Wichita has seen a healthy appreciation rate of 6%. This positive growth signifies a steady demand in the housing market, reinforcing the value of investment in the city.
Unemployment rate: Currently, the unemployment rate is at 4.8%. Despite economic uncertainties brought about by global trends, Wichita's job market remains relatively resilient.
1-Year job growth rate: The job growth rate has seen a slight increase of 0.4% over the past year. Although modest, this growth indicates a potential upward trend for job opportunities in the city.
Population: The city's population sits at 386,552. The vibrant community further underscores the city's appeal and potential for continued growth.
Median household income: With a median household income of $49,476, Wichita is in line with other similar-sized cities across the U.S.
These conditions have made Wichita an attractive location for any exterior painting contractor. In addition to Koehn, there are other exterior painting companies that have sprung up. These include:
360° Painting: Their services range from interior and exterior painting, cabinet painting, drywall repair, garage floor coating, concrete, deck, fence, and wood staining, to specialty texture painting, power washing, popcorn ceiling removal, and wallpaper removal.
River City Painting: Operating since 2005, River City Painting is a locally owned and insured exterior painting contractor dedicated to quality workmanship and superior customer service. They offer both exterior and interior painting services.
Western Painting: This contractor offers high-quality residential and commercial painting services. Their offerings include interior and exterior painting, kitchen cabinet enameling, popcorn-ceiling removal, sheetrock repair, and water damage repair.
Contact us here if you would like to find the best painting contractor for your residential or commercial needs.
Why Wichita Residents Choose Koehn for Professional Painting Services
When it comes to professional painting services, Koehn's offerings go beyond the usual, setting us apart from the competition. Our understanding of the local Wichita market, an unwavering focus on quality, and impeccable customer service have turned us into the ideal exterior painting contractor for Wichita residents.
At our core, we at Koehn are a full-service painting contractor, offering an array of both exterior painting and interior services. Our full range of services includes:
Exterior painting: Koehn provides comprehensive exterior painting services that can revamp the look of any home, regardless of its size or style. They use premium, climate-resistant paints to ensure a durable finish that protects and beautifies.
Interior painting: Beyond exterior projects, Koehn is one of the best Wichita painters that is well-equipped to handle interior painting tasks. They bring their expertise and meticulous approach indoors, transforming rooms into revitalized, inviting spaces.
Prep work & repairs: Painting services begin with careful preparation. This includes power washing, scraping off old paint, and performing necessary repairs, including siding repairs. This detailed prep work lays the groundwork for a flawless finish.
Pressure washing: Koehn offers professional pressure washing services to clean your home's exterior thoroughly, enhancing its overall appearance and prepping it for a new coat of paint if needed.
Deck painting: To ensure your entire property looks its best, Koehn offers deck painting services. Their team can restore your deck's beauty and protect it from the elements with specialized paints and finishes.
Brick painting: If your home features brickwork, Koehn's brick painting service can enhance its aesthetic appeal and provide added protection against the elements.
Cabinet painting: For homeowners looking to refresh their kitchens or bathrooms, Koehn provides professional cabinet painting services, delivering a stunning transformation that can modernize your space.
Color consultation: Selecting the right color can be daunting. Koehn offers expert color consultation services, guiding customers toward choices that reflect their style and enhance their home's architectural features.
Maintenance services: Beyond painting projects, Koehn offers maintenance services to ensure your home continues to look its best year-round. These services include regular inspections and necessary touch-ups.
In addition to the services we offer at Koehn, experience, and expertise also form the backbone of Koehn's success. With years of experience serving the Wichita market, we've developed a keen understanding of what works best for local homes.
Our team is composed of skilled professionals who are not just proficient in their craft but also stay updated with the latest trends and techniques in exterior painting.
Why You Should Look for the Best Exterior Painting Contractor Near You
Hopefully, by now, you understand why Wichita residents choose Koehn as their trusted exterior painting contractor. Koehn's wide-ranging and tailored service offerings, coupled with our deep understanding of the local market and commitment to customer satisfaction, have carved us a unique niche in Wichita's home renovation industry.
As we conclude, it is worth mentioning some of the benefits of professional exterior painting:
Aesthetic appeal and its impact on property value: A new paint job greatly improves a home's aesthetic appeal, breathing new life into an aging facade. This aesthetic transformation has financial implications, as a well-maintained, freshly painted property can significantly increase a home's market value.
Protection from environmental factors: Exterior paint acts as a protective shield against environmental factors like sun, rain, wind, and insects. Also, regularly repainting can stave off wear and tear, prolonging the life of your siding and potentially saving substantial repair costs in the future.
As we look ahead, Koehn will continue striving to be a leading choice for exterior painting services in Wichita. Our unwavering dedication to quality, customer service, and the local community promise a bright future for our next clients and their homes. If you're considering an exterior painting project, we invite you to experience the Koehn difference.
If you want to learn more about Koehn and our painting services, feel free to get a quote from us.