They say that home is where the heart is, and there's nothing quite like the satisfaction of transforming your living space into a true reflection of your personality and lifestyle with professional house painters. Wichita KS residents acknowledge that home renovation is more than just about keeping up with a trend.
It's a way to breathe new life into your surroundings, increase the value of your property, and create a comfortable and aesthetically pleasing environment. However, a successful home renovation project requires careful planning, a clear vision, and the expertise of skilled professionals. One such group of professionals that play a pivotal role in the transformation of any home are house painters in Wichita KS.
In this comprehensive guide, we will delve into the essentials of home renovation, with a special focus on the crucial role that house painters play in this process. We will also be shining a spotlight on painting in Wichita, Kansas, exploring the local home renovation scene and the unique considerations for homeowners in this region.
Whether you're a seasoned homeowner looking to upgrade your home, a new homeowner excited to put your stamp on your property, or simply someone interested in the world of home renovation, this blog post is for you. So, let's embark on this journey of transformation, color, and creativity together.
A Deep Dive Into Home Renovations and Affordable Painting
Home renovations are not just a design endeavor but also a strategic financial decision. It can be a daunting task, especially when it comes to whole-home renovations. However, with a clear plan and a systematic approach, you can transform your home into a space that reflects your personal style and meets your functional needs.
Below are the stages you will encounter during home renovations
Design and plan: Design is the heart of every home renovation project. It's where your ideas, inspirations, and personal style come together to shape the vision of your dream home. Start by identifying your renovation goals. What do you want to achieve with this renovation?  Once you have a design in place, the next step is planning. This is where you'll lay out the roadmap for your renovation journey. A comprehensive plan will include a detailed timeline, a budget breakdown, a list of required materials, and a step-by-step guide to the renovation process.
Preliminary projects: Before you start tearing down walls or installing new flooring, it's crucial to conduct a thorough home inspection. This involves checking your home's structural integrity, plumbing and electrical systems, insulation, and other key areas. An inspection can reveal hidden issues such as water damage, mold, or outdated wiring that need to be addressed before the renovation begins. Ignoring these problems can lead to costly repairs down the line. Depending on the scale and nature of your renovation, you may also need to secure permits from your local government.
Funding: Whole-home renovations are expensive and lengthy. Therefore, external funding is usually necessary. Options include unsecured home improvement loans and Home Equity Lines of Credit (HELOCs). Research and choose the best option that suits your financial situation.
Demolition: Be cautious when demolishing surfaces coated with lead-based paint or containing asbestos, as these materials can be hazardous to your health.
Structural Carpentry: This involves moving walls, constructing new walls, adding beams to support a greater weight upstairs, adding new doors, framing for new construction windows, or significantly enlarging the window openings. This step shapes the basic structure of your renovated home.
HVAC, electrical, and plumbing: When the walls and ceiling are open, it's time to install vital services like HVAC, electrical, and plumbing systems. This makes it easier for the HVAC company to install ductwork and for electricians and plumbers to run new systems.
Window installation: Installing new construction or replacement windows is usually best done by professionals. Proper installation ensures energy efficiency and longevity of the windows.
Insulation and drywall: Before installing drywall, insulate the house. Different types of insulation may be used for different areas of the house. This step is crucial for maintaining a comfortable temperature in your home.
Fine carpentry: Fine carpentry includes installing baseboards, molding, trim around windows and doors, and built-in elements like bookcases or breakfast nooks. These details add character and charm to your home.
Floor installation: Install floor covering as late as possible in the renovation process to prevent damage. Options include laminate, solid hardwood, engineered wood, carpet, vinyl, tile, or marble. Each option has its own pros and cons, so choose based on your lifestyle and aesthetic preferences.
Exterior work: Consider external renovations like installing gutters and siding, and adding a front porch, sunroom, detached garage, or swimming pool. These additions can enhance the curb appeal and functionality of your home.
Once you have a clear vision, identify the tasks you can handle and those that require professional contractors. Your search can now begin for contractors and subcontractors. A 2022 Remodeling Impact Report revealed that homeowners often feel more satisfied with renovation projects completed by professionals rather than DIY efforts.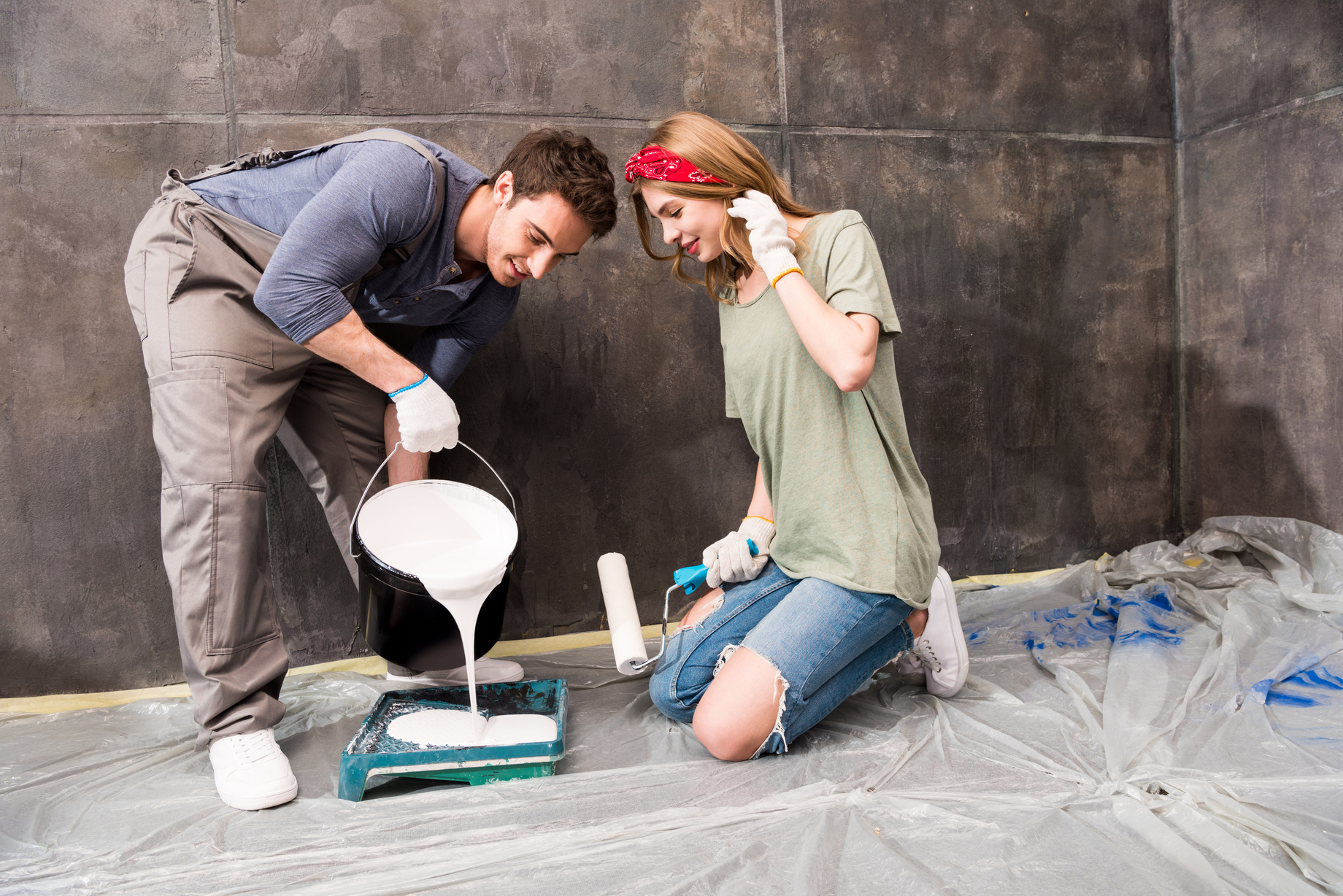 The role of affordable painting in home renovations
Residential painting can be underestimated during the renovation process. However, it's one of the most impactful and cost-effective ways to transform your home. A fresh coat of paint can breathe new life into a room, making it feel larger, brighter, and more inviting.
Choosing the right color palette can set the mood for your entire home. Warm colors like reds, oranges, and yellows can create a cozy and welcoming atmosphere, while cool colors like blues, greens, and purples can evoke a sense of calm and relaxation. Neutral colors like whites, grays, and beiges offer a timeless appeal and provide a versatile backdrop for any style of decor.
Painting the walls or adding wallpaper is also one of the last indoor tasks. This is where you can really start to see your vision come to life. Choose colors that reflect your personal style and create the desired ambiance.
In Wichita, KS, homeowners have access to a wide range of affordable painting services. These professional house painters—such as Koehn Painting—understand the local climate and its effects on paint longevity, ensuring that your home's exterior can withstand the Kansas weather. 
They also have a deep knowledge of interior painting techniques, provide valuable advice on the best types of paint for different surfaces and can help you choose the right type of paint and finish for each room.
Affordable doesn't mean compromising on quality. Many of these painters use high-quality, eco-friendly paints that are durable and safe for your family. They also offer a variety of services, from basic wall painting to intricate decorative finishes, allowing you to customize your home to your heart's content.
House painters Wichita KS are also knowledgeable about local building codes and regulations, ensuring that all work is up to code. 
Contact us here if you would like to find the best painting contractor for your residential or commercial needs.
Exterior and Interior House Painting: Wichita KS' Painting Scene
Wichita, the largest city in Kansas, is known for its rich history, diverse culture, and vibrant arts scene. This artistic flair extends to the city's house painting industry, where local painters bring a unique blend of creativity, craftsmanship, and attention to detail to every project.
Exterior house painting in Wichita KS is not just about aesthetic appeal; it's also about durability. With the city's diverse climate, which ranges from hot, humid summers to cold, dry winters, exterior paint needs to withstand a variety of weather conditions. Wichita's professional painters understand this and use high-quality, weather-resistant paints and affordable painting that not only enhance a home's curb appeal but also provide long-lasting protection against the elements.
Interior house painting, on the other hand, is where homeowners can truly express their personal style. From warm, inviting neutrals to bold, vibrant hues, the color possibilities are endless, and the house painters Wichita, KS has are adept at helping homeowners choose the perfect color palette that reflects their style and complements their home's architecture and decor.
Why You Should Choose Koehn When Looking at the House Painters Wichita KS Offers
When it comes to professional house painters Wichita KS offers, residents have a clear favorite – Koehn Painting Co LLC. Founded over 35 years ago by Leroy and Susan Koehn, this family-run business has established a reputation for delivering top-notch painting services that combine craftsmanship, attention to detail, and a deep understanding of the unique needs of Wichita homeowners.
Whether it's a complete exterior makeover to withstand the diverse Kansas weather or an interior transformation to reflect the homeowner's personal style, Koehn's team of skilled painters bring their expertise and passion to every project. We understand that painting is more than just a job; it's an art that can dramatically enhance the aesthetic appeal and value of a home.
Choosing Koehn for your house painting needs means entrusting your home to professionals who prioritize quality, customer satisfaction, and local expertise. Koehn is well-versed in local building codes and regulations, ensuring that all work is up to code. Moreover, this expert residential painting contractor uses high-quality, durable paints that not only look beautiful but also provide long-lasting protection.
If you want to learn more about Koehn and our painting services, feel free to get a quote from us.