Choosing to search for "exterior painting contractors near me" can be a game-changer. Whether you're just embarking on your property journey or you're a seasoned veteran, the importance of a new, high-quality exterior paint job for your home or investment property is undeniable. Painting isn't just about aesthetics; it also serves as a primary defense against weather, insects, and other potential damage.
To help facilitate your search for the perfect professional to entrust with your property, we've curated this comparative review of Newton and Wichita, Kansas' best painting contractors. We'll cover the top four painting contractors and compare them on various criteria, including but not limited to their experience, service range, customer reviews, pricing, and the overall value they offer.
But first, let's look at the benefits of hiring a professional exterior painting contractor. 
Why you should hire professional exterior painting contractors for your painting needs
While some might be tempted to embark on the exterior painting of their home as a DIY project, hiring professional external painting contractors has numerous advantages. Examples of these advantages include: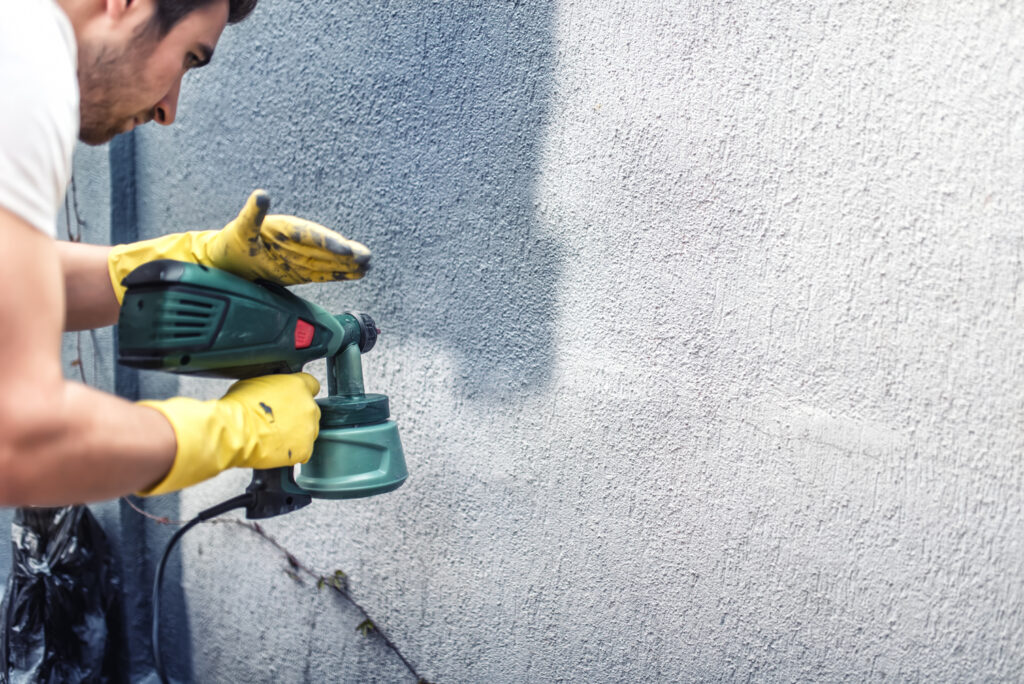 High-quality results: First and foremost, professional painters deliver unmatched results. Their attention to detail and thorough artistry transform your home into a visual delight. They possess the knowledge and experience to exceed your expectations and ensure your home looks incredible after the paint job.
Structural stability: A professional painting contractor provides more than just a paint job. They can also help identify structural issues in your house, such as decay or rot. By addressing these defects before painting, you ensure a smooth, flawless finish and protect your building against potential damage from water vapors.
Expertise in new patterns and colors: Keeping up with the latest trends in exterior paint can be overwhelming, but professional painters are always in the loop. They can provide guidance on suitable color selections, trending patterns, and cost-effective alternatives. Additionally, they use high-quality paints that are resistant to ultraviolet rays and harsh weather conditions, which adds to the longevity of your paint job.
Safety: Professional painting contractors prioritize safety. They invest heavily in training, proper tools, safety equipment, and necessary certifications. This diligence minimizes the risk of any accidents that could harm your home or family, allowing you to relax while they do the hard work.
Thorough surface preparations: Successful painting projects require extensive preparations, a process that professionals handle exceptionally well. From rot repairs and carpentry work to sanding and patching, these preliminary steps are crucial to ensure that the painting lasts longer and appears flawless once completed.
Timely completion: With a team of professionals at their disposal, a painting company can efficiently complete your project within the agreed time frame. This speed and precision give you extra time for other pursuits, such as brainstorming decoration ideas or planning interior designs.
Cleanliness and longevity: When you hire professional painters, you can expect a clean work environment and long-lasting results. They implement effective containment strategies to prevent chips, messy flakes, and debris from disrupting your space. Furthermore, a well-executed paint job performed by professionals can last for years, making it a worthwhile investment.
Reduced stress: Lastly, hiring professional painting contractors alleviates stress. They meticulously plan the project and possess the requisite insurance and expertise to guarantee exceptional results. This assurance means that if anything goes awry with your paint job, the professionals are equipped to rectify the issue seamlessly.
Entrusting your exterior painting project to professional contractors guarantees high-quality results, structural stability, timely completion, and much more. With this in mind, let's look at the top four contractors in Wichita and Newton, Kansas.
Exterior Painting: Newton and Wichita, KS' 4 Best Contractors
Without further ado, let's delve into our top 5 exterior painting Newton and Wichita, Kansas contractors. 
If you've spent time in Newton, KS, you're likely already familiar with Koehn Painting Co. LLC, affectionately known as Koehn. Rooted in the community and renowned for our dedication to superior service, Koehn has transformed local properties with their exceptional painting services for nearly four decades.
A Humble Start
Koehn was founded in 1985 by Leroy & Susan Koehn, who are not only the heart and soul of the company but also long-time residents of Newton. Their journey began with the management and maintenance of rental properties, leading them to discover their talent for painting.
When they painted a small office building for a local businessman, word quickly spread about their meticulous work. This wave of referrals led to the establishment of Koehn, making a profound impact on local businesses and homes alike, which we have continued to do to this day.
Continuous Growth and Expansion
Over the years, Koehn's reputation for excellence led to significant growth and expansion:
The team expanded, and we acquired an office and shop space to accommodate operations.
In 1995, we landed our first large commercial project, painting the Newton Outlet Mall.
In response to growing demand, we created a specialized division, K5 Painting, in 2018.
Service Excellence as Standard
At Koehn, we stand out for our commitment to service excellence. We begin each project by offering free in-home estimates and actively listening to each client's unique needs and vision. Preparation is paramount at Koehn.
We meticulously prepare surfaces before painting, removing any loose material and ensuring the surface is perfectly primed for paint. Beyond painting, Koehn provides professional repairs and takes extra care to protect plants and furniture during the painting process.
Unmatched Experience
With over 30 years of experience in the industry, our painters possess the knowledge and skills to tackle any painting situation. Our unwavering attention to detail and commitment to customer satisfaction truly sets us apart.
Comprehensive Interior and Exterior Painting
At Koehn, we offer a wide range of home painting services for both interior and exterior spaces. This includes new construction and repaint projects. We also guarantee a neat, clean, and quality job delivered on time and within your budget if you search for "exterior painting contractors near me."
The Benefits of Professionalism
Hiring Koehn offers homeowners lots of benefits, such as:
Enhanced appearance and durability of a professional paint job.
Time savings as Koehn handles everything, from the initial walk-through and estimate to the final clean-up.
With a firm commitment to quality, professionalism, and customer service, 360° Painting is not just a service provider; it's a partner in enhancing the aesthetic appeal of your property.
Two-Year Assurance
360° Painting stands by its work with a warranty that reassures clients. They guarantee that their painting procedures will be free from defects for two years from completion. Moreover, any carpentry work performed on removed and reinstalled products is warranted for six months. This assurance offers you peace of mind knowing that your investment is protected.
Professional Painting Services
360° Painting is not just a painting company. They commit to delivering projects on time, on budget, and with the highest quality. They use premium, high-quality paints and always put the needs of their customers at the forefront of their operations.
A Comprehensive Range of Services
Beyond interior and exterior painting, 360° Painting provides a diverse range of services that include:
Cabinet painting
Drywall repair
Garage floor coating
Concrete, deck, fence, and wood staining
Specialty texture painting
Power washing
Popcorn ceiling removal
Wallpaper removal
A Clear Mission
360° Painting's mission is clear and straightforward: to provide the highest quality finish and the best painting experience possible. They strive to complete every project to the customer's exact specifications, ensuring professional, accountable, and reliable service throughout the process.
Operating since 2005, this locally owned, operated, and insured company has been serving the community with its exceptional services and commitment to customer satisfaction.
The River City Promise: Quality and Customer Service
River City Painting prides itself on its dedication to quality workmanship and superior customer service. The team firmly believes in doing jobs right the first time, eliminating the hassle of follow-up fixes. They work closely with their customers, from the initial estimate to the final walkthrough, ensuring a seamless experience and outcomes that exceed expectations.
Expertise in Residential Painting
Offering exterior and interior painting services, River City Painting helps homeowners infuse their spaces with personality and style.
Introducing Painter For A Day
River City Painting offers an innovative service called "Painter For A Day." This service provides a flat rate for 8 hours of work, allowing for simplified painting services. Whether it's a minor touch-up or a room transformation, this service ensures you get the professional help you need within your budget.

Nestled in the heart of Wichita, KS is a company that has been in the painting industry for over four decades – Western Painting. Their commitment to excellence, punctuality, cleanliness, and attention to detail has made them a great choice for residential and commercial painting services.
Affordable and Honest Services
At Western Painting, affordability meets honesty. The company is dedicated to providing cost-effective solutions without compromising on quality. Their reputation for impeccable interior and exterior painting services has established them as a reliable partner for homeowners and businesses alike.
A Quality-First Approach
The foundation of Western Painting lies in its 'quality first' philosophy. This approach drives them to work meticulously to bring their customers' vision to life. Prioritizing customer satisfaction, Western Painting delivers a service as impeccable as the finish on its paintwork.
Interior and Exterior Painting Services
Western Painting's comprehensive service offering covers a range of needs. Their interior services include:
Painting walls and ceilings
Kitchen cabinet enameling
Popcorn-ceiling removal
Epoxy garage floors
Sheetrock repair
Water damage repair
The exterior painting services extend to:
Power washing
Scraping and sanding loose paint
Priming bare wood
Caulking
Window glazing
Removing and washing storm windows
Siding and window repair
A Reputation of Excellence
Western Painting's exceptional service has earned them an A+ rating from the Better Business Bureau. Known for their timely, efficient, and superior service, they strive to be the one-stop home improvement specialist.
Contact us here if you would like to find the best exterior painting contractor for your residential needs.
Questions To Ask When Looking for Affordable Painting Services
Now that you have an idea of the best and most affordable painting services in Newton and Wichita, Kansas, it is worth considering the questions you should ask once you searched for "exterior painting contractors near me" and narrowed down your list to a few painting contractors.
There are 13 powerful questions that you should ask, and they include:
For how many years have you been operating in this field?
Could you share some references from your past clients?
What kind of educational background and certifications do you hold?
Can you estimate the duration of this project?
What is the number of crew members who will be working on this project?
Who would be my primary liaison during the project execution?
Could you provide a detailed breakdown of the project's costs?
Could you elaborate on your preferred payment structure?
Are there any chances of incurring extra charges during the project?
Do you hold the necessary licenses and insurance?
How do you ensure safety measures are maintained during the work?
What precautions will you take to safeguard furniture and other items while painting?
What does your post-project clean-up procedure look like?
By asking the above questions to contractors specializing in exterior painting, Newton, Kansas residents can be sure they are hiring the best exterior painting contractor they can find.
Remember, a professional contractor will appreciate your thoroughness and be willing to answer these questions. Their responses will provide valuable insight into their operations and help you make an informed decision.
What To Expect When Working With Exterior Painting Contractors Near Me
Choosing the right exterior painting contractor is an important decision that can significantly impact your home's curb appeal, protection, and overall value.
With all the information listed above, your search for "exterior painting contractors near me" should be much easier. Assuming you have chosen one of the best exterior paint contractors we listed above, here's what you can expect from them:
Professionalism
A consultative approach
Upfront pricing
Excellent communication
Flexibility and reliability
Excellent reviews
Quality products
Ultimately, the right contractor for you will depend on your unique circumstances, preferences, and the specific requirements of your home. Take your time, do your research, and don't hesitate to ask questions. After all, this is about investing in your home's future and ensuring its beauty and integrity for years to come.
If you want to learn more about Koehn and our painting services, feel free to get a quote from us.