If you are a Wichita, Kansas, resident or a new homeowner searching for an "exterior home painter near me," you have been presented with the perfect opportunity to refresh and reinvent your home and your surroundings. 
The exterior of your home is much more than just a structure; it is the first impression you offer to the world. Just as we put thought into our personal appearance, so too should we consider the aesthetic appeal of our homes. It speaks volumes about our personal style, our attention to upkeep, and our pride in homeownership.
Painting your home's exterior is an investment that not only improves its visual appeal but also increases its market value. But it's more than picking a random color and slapping it on the walls. 
It's about keeping pace with design and color trends, using colors that harmonize with your surroundings, and understanding the impact of those choices. From the traditional appeal of neutrals to bold and vibrant hues making a statement, there's a fascinating spectrum of possibilities when it comes to painting your home.
With evolving design aesthetics, changing personal preferences, and a growing emphasis on eco-friendliness, the trends in exterior and interior home painting are ever-changing. However, keeping up with these trends can be quite a task, especially when you are looking for something that blends style, longevity, and your personal taste.
In this blog, we'll delve into these interior and exterior painting trends, explore how to find the best professional painters near you, and understand why hiring them is a worthy investment. Whether you're contemplating a complete exterior/interior home makeover or just want to stay in the loop with the latest in home painting trends, this is the blog for you.
Benefits of Hiring Professional Exterior Residential Painters
Before we dive headfirst into the painting trends that you can expect from residential painters, it is worth mentioning the benefits of hiring a professional exterior home painter near me rather than choosing the DIY route. 
Painting your home's exterior is a significant task that requires more than just a couple of paint cans and brushes. Professional exterior painters can be a game changer for most due to their: 
High-quality work: The difference between a professional paint job and a DIY attempt is immediately apparent in the finish. Professional painters guarantee an evenly applied paint job without runs or misplaced splotches. They can easily handle challenges like ensuring the base color doesn't bleed into the trim and vice versa. They bring years of experience, specialized tools, and advanced techniques to the table, resulting in a meticulously executed, durable paint job that stands up to the elements.
Knowledge and expertise: Professional painters have a thorough understanding of the range of products available on the market and can recommend the best types of paint for your home, taking into account the specific surface, the climate conditions, and the desired finish. They are also skilled in addressing potential issues such as wall damage, mildew, or rust, ensuring your exterior paint job is not just beautiful but also protective.
Safer atmosphere: Painting a house, particularly a multi-story one, can involve certain risks, such as working at heights or handling heavy equipment. Professionals come equipped with the necessary tools and safety equipment, like ladders and cherry pickers, reducing the risk of accidents or injuries dramatically. By hiring a professional, you are ensuring the job gets done without putting yourself or your family at risk.
Color suggestions: Another significant advantage of hiring professionals is their eye for design. With their extensive experience, they can offer valuable advice on color choices and combinations that would best suit your home's style and surroundings. They have a deep understanding of how colors interact with different architectural features and can guide you in selecting shades that will enhance your home's curb appeal. Plus, they can accurately estimate the amount of paint needed, preventing wastage or shortage.
Insurance and licensing: Reputable professional painters possess the necessary licenses and insurance. These provide a safety net for homeowners in case of accidents or damage during the painting process. This added layer of protection offers peace of mind that any issues will be handled professionally and without additional cost to you.
Efficiency and cleanup: Professional painters work within a set timeline, ensuring that your painting project is completed efficiently and without unnecessary delays. This includes cleaning up after the job is done. With professionals, you can expect your property to be left clean, with no paint spills or debris left behind, just a beautifully painted home.
By enlisting the help of a professional exterior home painter, you can transform your home with confidence, knowing that the job will be done with safety, precision, and attention to detail. In the next section, we'll delve deeper into the painting trends that apply to both the exterior and interior of your home.
Contact us here if you would like to find the best exterior painting contractor for your home.
Painting Trends To Expect From the Best Home Painting Services
Now that we've understood the benefits of hiring a professional for our home painting services, it's time to dive into the heart of our topic: the current painting trends to expect from the best exterior home painter near me.
Painting trends offer a fantastic way to stay abreast of evolving aesthetics and can provide fresh inspiration for your own exterior home painting project. Below are some of the most notable painting trends painting contractors are using today:
1. Creating calm with blue
Blue, a versatile color acknowledged for its calming properties, is making waves amongst residential painters. Lighter shades of blue, like sky or powder blue, are perfect for uplifting moods and creating serene, airy environments. On the other hand, darker shades like navy provide a cozy, intimate ambiance. These tones work well for living rooms, bedrooms, and even exteriors, where they present an inviting, tranquil front to the world.
2. The softness of lilac
Soft lilac, a romantic twist on the more neutral gray, is a top pick today. Deemed comforting and relaxing, this hue is great for spaces where you want to encourage unwinding. What's more, Digital Lavender was announced as the Color of 2023 by trend forecasters WGSN + Coloro, adding to the appeal of this serene shade.
3. Pretty and practical pinks
Pink, particularly earthy, natural shades, is now considered a new decorating neutral. This warm hue adds depth to a room and pairs well with a variety of other colors, making it a versatile choice for both interiors and exteriors.
4. The return of rich reds
Red, especially within heritage and classic color palettes, is making a powerful comeback. This empowering color fits into both traditional and modern homes, adding a sense of luxury and vibrancy when house painting.
5 . Grounding with natural hues
Colors with depth and influence from the natural world—such as warm browns—are a perfect choice to make a room feel grounded and inviting. These colors are ideal for creating a cozy atmosphere and are versatile enough to be paired with other hues.
6. Energizing with yellow
Yellow, associated with happiness and positivity, is a wonderful choice for social areas. This energizing color can add a pop of vitality to your kitchen, living room, or exterior gathering spaces.
7. Cozy browns
Earthy brown, grounding and sophisticated, is another versatile color that pairs well with various other hues. It is perfect for creating a cozy, warm atmosphere in any room of the house.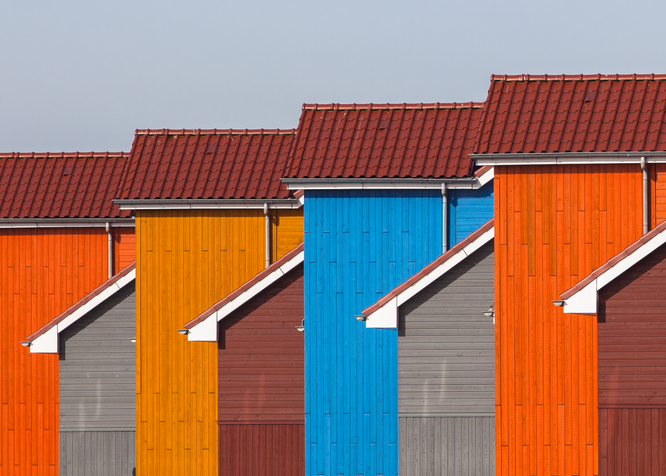 8. Boldness and confidence in color
Recently, there's been a trend toward using bold colors to create spaces that are joyful and reflect personal style. Think strong, confident colors like bold blues, radiant reds, and vibrant oranges.
9. Inspiration from the natural world
Green, synonymous with nature, is a soothing and versatile color. It pairs well with earthy colors and natural materials, creating a refreshing and tranquil atmosphere that's perfect for both interiors and exteriors.
10. Unique color combinations
Unique color combinations add drama and intrigue to spaces. These eclectic combinations create individualistic looks and can be a fun way to experiment with both interior and exterior painting.
11. Painting the ceiling
This is becoming increasingly popular as a way to add a dramatic focal point and finish off the look of a room. Don't limit this trend to the interior; a painted porch ceiling can also be an unexpected delight.
12. Highlighting architectural features
Using paint to enhance architectural features, like window frames and paneling, is a unique design feature gaining popularity. This technique adds depth and interest to both exterior and interior spaces.
13. Tonal color schemes
Finally, tonal color schemes using varying strengths of the same pigment are emerging as a popular trend. These schemes can create a tranquil, harmonious atmosphere in more relaxed spaces, while stronger applications can deliver an impactful tonal scheme perfect for bold, statement areas.
Exterior Home Painter Near Me: How To Find the Best One
Throughout this article, we've highlighted the benefits of seeking professional help for your painting project and explored the exciting current trends in exterior and interior home painting, providing a diverse palette of inspiration for your own home's makeover.
Before we conclude, it is worth mentioning steps you can take to choose the best contractor from a list should you perform an online search for an "exterior home painter near me."
Ask for recommendations from friends, family, and neighbors
Read the company's online reviews
Request multiple quotes from multiple contractors
Verify credentials
Ask for references
Finding the best exterior home painter near you will involve some research and due diligence, but it's an investment that will pay dividends in the quality of your paint job.
If you want to learn more about Koehn and our painting services, feel free to get a quote from us.