In a field brimming with contractors, the selection process for painters can sometimes feel overwhelming. A question you might find yourself asking is, "Who are the best painting contractors near me?" Few decisions are as crucial as selecting the right professional for the job.
Painting can add value to your property, protect it from wear and tear, and reflect your style and personality. However, achieving those benefits relies heavily on the quality of the work performed, and that's where the choice of a painting contractor comes into play.
In your quest for the perfect painting professional in Newton, Kansas, we present Koehn Painting, a company that has cultivated an exceptional reputation in Newton, Kansas, and beyond since 1985.
The story of Koehn Painting is one of humble beginnings, dedication, and growth. Its inception was sparked by a random encounter, blooming into a business that now stands tall in the Kansas painting industry.
This article aims to guide you through the process of selecting the best painting contractors. We will use Koehn Painting as an example of a model painting contractor, and by the end of this article, you will be fully informed and make the best decision on how you should look for "painting contractors near me."
But first, let's look at what you need to know about the painting industry.
What you need to know about the painting industry
Each painting contract is unique, with its own set of requirements, scale, and complexity. These differences are particularly marked when comparing commercial and residential painting contracts.
While they both have the same essential purpose – to enhance the aesthetics and protect the surfaces of a building, the specifics of each category are quite different.
Commercial painting caters to businesses such as restaurants, offices, and large residential complexes. In this type of painting, the selection of colors often involves strategic branding considerations. Additionally, the commercial painting process should cause minimal disruption to the regular operation of the business; hence quick-drying paints are often used.
One key characteristic of commercial painting is the spaces it is applied to. Customers or prospective tenants will be present in these areas, necessitating a different level of appeal and durability. Therefore, painted surfaces should be attractive to the general public and durable enough to withstand the rigors of high-traffic areas.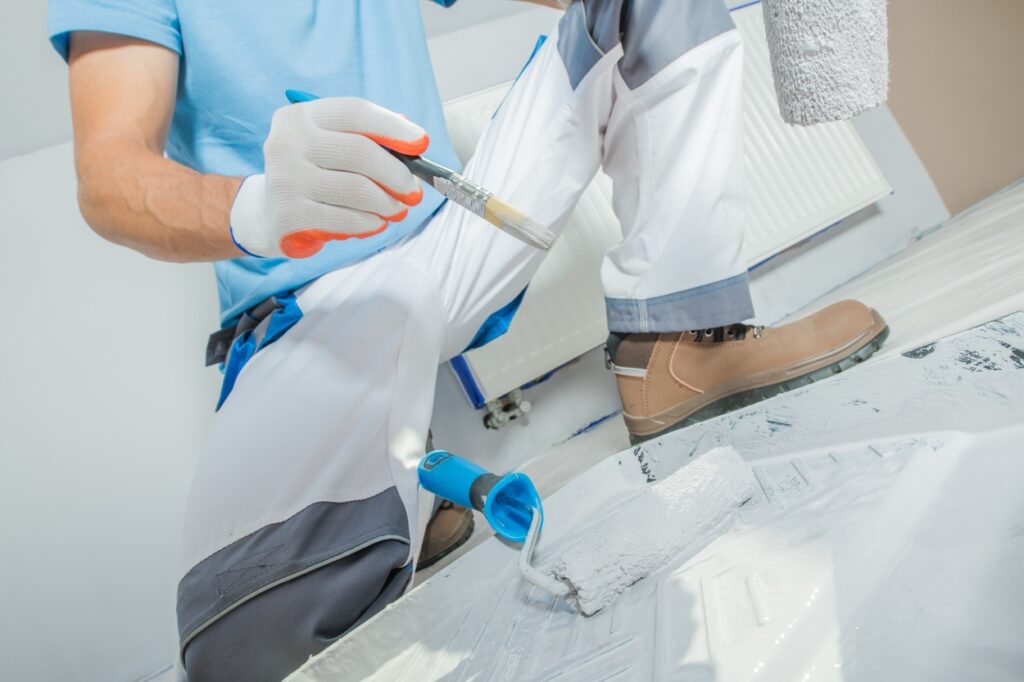 Commercial painting projects typically boast a larger scale than their residential counterparts, requiring a larger team of painters, more advanced painting equipment, and a wide selection of paints to meet the varied requirements to deliver the desired outcome.
Residential painting, on the other hand, involves services tailored specifically for homes and covers both interior and exterior surfaces, including garages, ceilings, decks, trims, and more. Here, the goal is not just to enhance the visual appeal but also to realize the homeowner's vision for their living space.
Residential painting tasks are generally on a smaller scale, resulting in them requiring basic painting equipment and a narrower selection of paints. Latex-based, water-based, or oil-based paints are commonly used in these projects due to their suitable characteristics for home environments.
It's quite rare for a painting company to excel in both these areas, but Koehn Painting is one such firm. Since its inception, Koehn Painting has progressively ventured into these sectors, developing a broad portfolio of residential and commercial projects.
Koehn's growth in the commercial space was so substantial that in 2018, a division was birthed solely dedicated to commercial painting: K5 Painting. From painting over 40 tenant spaces and the entire exterior of the Newton Outlet Mall to painting the Andover Amphitheater, Koehn and K5 Painting have demonstrated a rare versatility in the painting industry.
How To Choose From the Best Local Painting Contractors in 8 Steps
Now that we have a clearer picture of the painting industry, let's discuss why choosing from the best local painting contractors is vital. Selecting a professional painting contractor goes beyond aesthetic results. Yes, we all want a visually appealing property that stands out, but other factors are at play.
Qualified and experienced contractors guarantee not only a beautiful finish but also a long-lasting one. There are seven reasons why you should look for "professional painting contractors near me"
Rich experience and expertise: Professional painting contractors come armed with years of experience and expertise, which empowers them to tackle painting projects of all scopes and complexities. This proficiency enables them to deliver quality results that align with your vision and expectations.
Access to high-quality products: Contractors such as Koehn Painting have access to high-quality paints and tools, which contribute to a higher standard of finish for your home or business. More importantly, Koehn knows how to select the right products for specific needs. This contributes to the longevity and aesthetic appeal of the paint job, enhancing your space's overall appeal.
Proper surface preparation: A professional painting crew knows how to prepare surfaces for painting. This can include patching holes, sanding rough spots, and cleaning surfaces. Proper preparation ensures paint adheres correctly and lasts longer, preserving the vibrancy and integrity of your walls.
Time efficiency: Newton, Kansas' best painting contractor, will take over all aspects of the job, from researching products and shopping for supplies to preparing surfaces and painting. This lets you focus on other tasks, saving you valuable time and energy.
Safety first: Painting can be a risky task without proper safety precautions, especially when it involves ladders or potentially harmful substances. Professional painters possess the necessary training, equipment, and experience to carry out the job safely, preventing any possible accidents.
Guaranteed quality: Professional painting companies usually offer guarantees on their work. If any issues arise post-completion, they are committed to addressing and rectifying them. This provides you with peace of mind, knowing that your investment is protected.
Cost-effectiveness: Though it might seem counterintuitive, hiring a professional painting company can be cost-effective in the long run. Professionals use high-quality products and proper techniques, resulting in a paint job that will last longer and look better. This can save you money on future repainting projects and maintenance, thereby proving a smart financial choice.
With the above in mind, here are eight steps to choosing from the best local painting contractors:
Understand Your Needs: Before you begin your search, thoroughly research the painting service you require. Consider the full scope of your project, the color palette you're interested in, and the finishes you prefer. A clear understanding of your needs will help in your conversation with potential contractors.
Analyze their experience and capacity: Not all painting companies are created equal. Verify the chosen company's experience and capacity to handle your project. You can do this by checking their painting portfolio and considering their history of successful paint jobs. A company with a wide range of experience will be more likely to deliver satisfactory results.
Inquire about the quality of the paints to be used: The quality of the paint used can significantly impact the longevity and aesthetics of the paint job. Ensure your contractor uses high-quality, lead-safe approved paints. These paints can withstand time and prevent the need for frequent repainting, saving you money in the long run.
Verify insurance coverage: Make sure the painting contractor and their workers are fully insured. Insurance coverage protects you against liability in case of accidents during the painting process. This is a crucial aspect to check to avoid potential legal hassles.
Ensure clear and effective communication methods are available: Good communication is paramount to the success of a painting project. Your contractor should provide an open channel for expressing your desires and expectations. A professional contractor will welcome your input and provide feedback based on their experience.
Analyze their reputation: Investigate the reputation of your potential painting contractor. Quality painters usually have a proven track record and a history of satisfied clients. Check references and online reviews to verify their quality.
Check their pricing: While pricing shouldn't be the sole determining factor, it can significantly impact the size and quality of your project. Therefore, it's wise to compare bids from different contractors. Consider at least three estimates. This way, you can find reasonable pricing without compromising on quality.
Verify their guarantees and warranties: Check if your contractor offers written guarantees and warranties for their work. These should cover the project's timeframe, pricing, and service quality. Some contractors even provide warranties against issues like warping, fading, peeling, and cracking. This gives you assurance and protection for your investment.
Contact us here if you would like to find the best painting contractor for your residential or commercial needs.
Koehn Painting, Newton, KS: A Model for Quality Painting Contractors
In the vibrant space of painting contractors, Koehn Painting, Newton, KS' premier painters, stands out for its wide array of services and its dedication to quality, integrity, and customer satisfaction.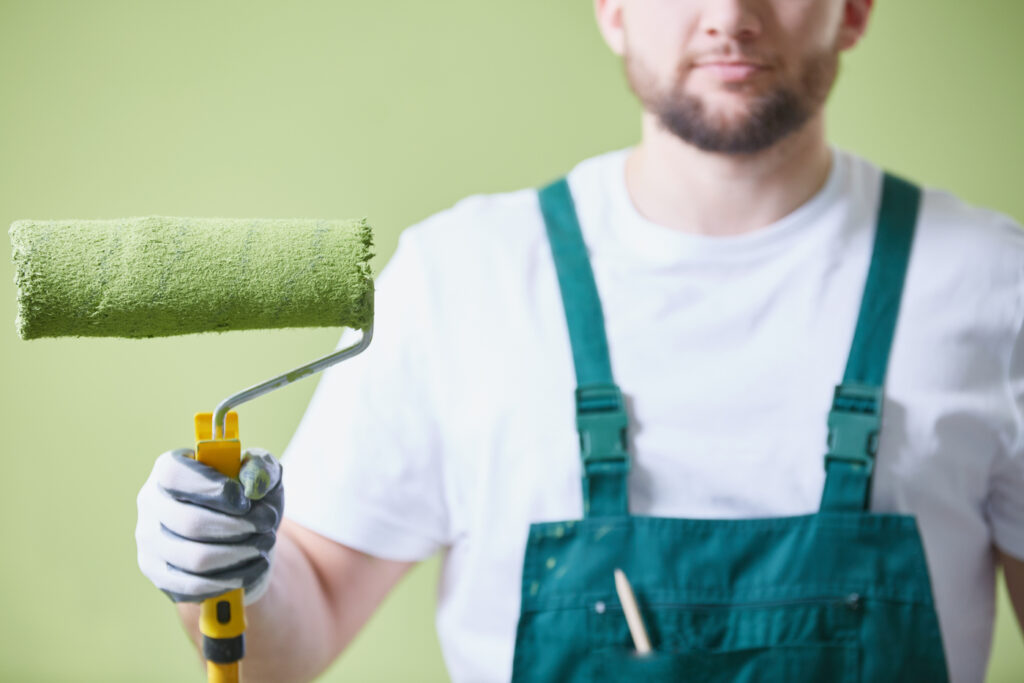 The genesis of Koehn Painting is deeply rooted in community and passion, which is an intangible you should look for when searching "painting contractors near me." The company's founders, Leroy & Susan Koehn—whose journey began not in painting but in managing rental properties around Newton—were not just entrepreneurs. They are Newton residents and remain dedicated to Newton and the wider Wichita, KS, area.
While maintaining these properties, Leroy discovered his passion for painting; a spark ignited when he was painting the exterior of his own home. A passing local businessman was so impressed by his work that he stopped to ask Leroy for a price to paint his office building. This one small office building project resulted in a steady stream of referrals, laying the foundation for Koehn Painting to serve those looking for residential painting contractors.
Over the next decade, Koehn Painting grew steadily, adding more painters to its ranks. The company's reputation for excellent work, professionalism amongst local painting contractors, and dedication to customer satisfaction fueled this growth. Their commitment to excellence led them to purchase their office and shop space at 204 W. 6th, Newton, KS, in 1994, further cementing their place in the community.
Koehn Painting's story is a testament to the power of passion, dedication, and commitment to quality. This affordable painter near me isn't just a business but a part of the Newton, KS, community—a trustworthy partner for all painting needs.
When you choose Koehn Painting or K5 Painting, you're choosing a piece of Newton's history, a team that brings professionalism, skill, and exceptional customer service to every project.
Choosing the Best Painting Contractors Near Me
Navigating through the sea of "painting contractors near me" can be challenging. But understanding the industry, recognizing the importance of choosing the right contractor, and knowing what to look for, can significantly simplify the process.
Our journey through this guide has been illuminated by the story and practices of Koehn Painting, a shining example of what an exceptional painting contractor looks like. Their story is a testament to the significance of community, passion, and quality in building a successful painting business.
The next time you are in Kansas, and you find yourself asking, "Who are the best painting contractors near me?" remember the tale of Koehn Painting.
If you want to learn more about Koehn and our painting services, feel free to get a quote from us.